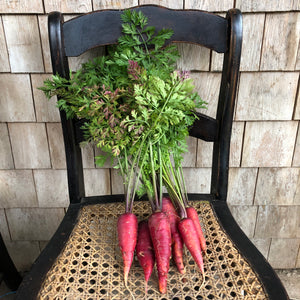 Cosmic Purple Carrot
Apiaceae
Cosmic Purple (Daucus carota) A unique carrot that is purple on the outside and orange on the inside. Another favourite of the Revival Family, this open pollinated variety grows best in mild temperatures. Notable for a sweet taste and packed with antioxidants, this carrot works well in stews and salads. This variety brings a splash of colour to the kitchen and is fun to grow!
65-70 days to maturity
200 seeds per packet $4.45
Planting Instructions: Sow Carrot seeds in a furrow 1/4 - 1/2 inch deep and 1 inch apart. Thin after germination to 2 inches apart. Sow any empty spaces throughout the year. Keep rows 12-18 inches apart.