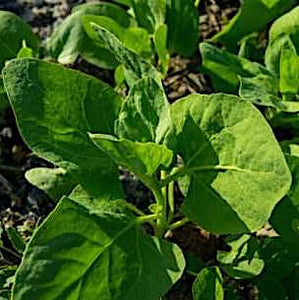 Green Orach
Amaranthaceae
Green Orach (Atriplex hortensis) Also known as Saltbush, Mountain Spinach, or Russian Spinach this is a very old cultivated plant that has recently attracted attention as a superfood alternative to spinach and chard. Rich in disease-fighting antioxidants and a slew of vitamins and minerals, Orach is a good heat-tolerant, fast growing spinach alternative, bearing dark green leaves that have a spinach-like flavour. We were very impressed with this plant from our first trials in 2019 and are pleased to add this variety to our 2022 catalogue.
45-60 days to maturity
30 seeds per packet $4.45
Planting Instructions:
Sow seeds ½ inch deep and thin plants to 6-8 inches apart. Sow 2-3 weeks before last spring frost.