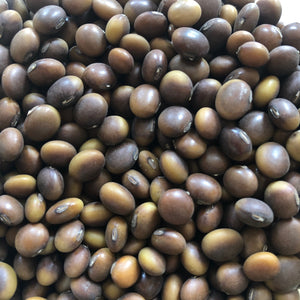 Agate Soybean
Fabaceae
Agate Soybean (Glycine max) This is an excellent tasting heirloom originally selected from a Japanese gardener and offered to the North American seed companies in the 1920's. The plants are high yielding, compact, reach twelve to sixteen inches in height, and require no support. Pods contain two to three, small to medium sized soybeans that are light tan - olive green with a dark red-brown hilum (eye) and saddle. They contain about 46% protein content and 19% oil.
80-85 days to maturity
40 seeds per packet $3.95
Planting Instructions: Sow seeds 1 inch deep with 3 inch spacing within rows during late spring or when soil temperature is at least 15-21 degrees Celsius. Wait to plant Soybean until soil temperature is 18-21 degrees Celsius.