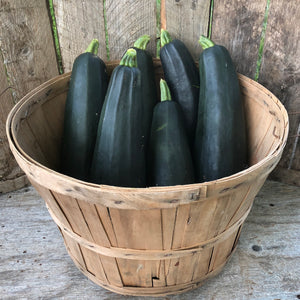 Black Beauty Zucchini
Cucurbitaceae
Black Beauty Zucchini (Cucurbita pepo) This is the standard summer squash, introduced in the mid 1920's. Large bush plants with semi-upright growth habit, producing many dark green gloss fruits containing firm white flesh. Plants are prolific producers in early summer and throughout. The younger fruits are the most tender to eat. Black Beauty zucchini are the best variety for freezing.
45-65 days to maturity
25 seeds per packet $3.95
Planting Instructions: Seed indoors 1/2 inch deep. Line out transplants after risk of frost has past, spacing 5-6 feet apart. Direct seed in raised hills sowing 5-6 seeds 1/2 inch deep. Soil temperature should be at least 21 degrees C. Space mounds 5-6 feet apart, thinning to 3 plants per mound.