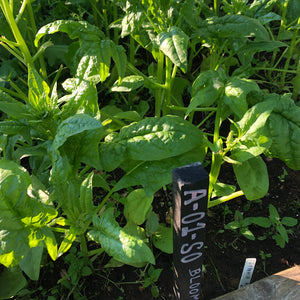 Bloomsdale Longstanding Spinach
Amaranthaceae
Bloomsdale Longstanding (Spinacia oleracea) A go to standard; the Popeye heirloom spinach with heavy, continuous yields of thick-textured, crinkly, glossy, dark green leaves. This is a large leafed plant that is slow to bolt. You can plant this variety in spring and again in late summer.
42-45 days to maturity
100 seeds per packet $3.95
Planting instructions: Sow seeds 1/2 inch deep and 1 inch apart, thinning to 2-3 inches apart after germination. Leave 12-18 inches between rows. Begin seeding when soil temperature is 7-10 degrees Celsius. Spinach can be sown as soon as ground is ready since it is a cool season crop. Spinach can also be sown again in late summer as a fall crop.