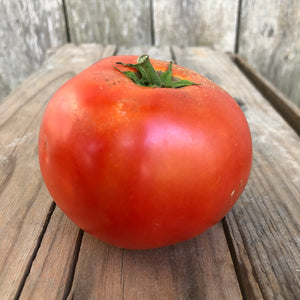 Bonny Best Tomato
Solanaceae
Bonny Best Tomato (Solanum lycopersicum) A great heirloom tomato choice for short and cool growing seasons. This variety matures early and can be grown with or without staking. Expect a substantial yield of smooth, scarlet red medium-large fruit that make this tomato a popular choice for slicing, canning and saucing.
Indeterminate Growth 
75-80 days to maturity
25 seeds per packet $3.95
Planting Instructions: Start seeds indoors 6-8 weeks before last frost. Sow 1/4 inch deep and keep soil warm. Transplant into 1 inch cells or 2 inch pots at 1-2 leaf stage. Staking tomatoes (indeterminate) should be transplanted into 3-4 inch pots. Harden off plants for 4-5 days after risk of frost has passed.  Transplant outdoors once day and night temperatures are consistently above 10 degrees Celsius.