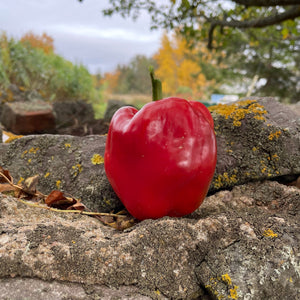 California Wonder Pepper
Solanaceae
California Wonder Pepper (Capsicum annuum) Sweet California Wonder Bell Pepper is one of the most popular large heirloom bell pepper plants, dating back to at least the late 1920's. These peppers are delicious for snacking, in salads, sautéing or stuffing. Fruits are mature about 70 days after planting. If left on the plant longer, the fruit will turn red and become even sweeter. 
70 days to maturity
25 seeds per packet $3.95
 Planting Instructions: Start seeds indoors 6-8 weeks before last frost. Sow 1/4 inch deep and keep soil warm. Transplant into 1 inch cells or 2 inch pots at 1-2 leaf stage. Harden off plants for 4-5 days after risk of frost has passed. Transplant outdoors once day and night temperatures are consistently above 10 degrees Celsius.