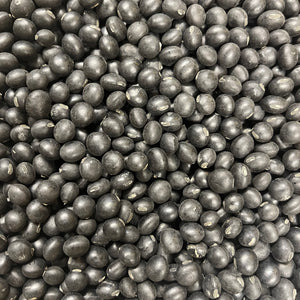 Black Jet Soybean
Fabaceae
Black Jet Soybean (Glycine max) A marvellous selection originally introduced in the 1990's by JSS. This is a great soybean for northern growers since it will finish under 90 days. Plants reach about two feet in height, bearing a thick clustering of pods, containing two to three seeds in each. The beans have thin, black skins and are very flavourful.  Aside from being an excellent source of protein and oils, soybeans are also a fantastic cover crop by fixing nitrogen and improving soil quality. Black Jet Soybeans contain about 52% protein content and 20% oil.
90 days to maturity
30 seeds per packet $4.45
Planting Instructions: Sow seeds 1 inch deep with 3 inch spacing within rows during late spring or when soil temperature is at least 17-21 degrees Celsius.