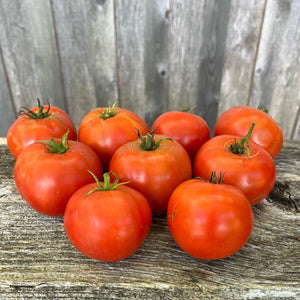 Doukhobor Tomato
Solanaceae
Doukhobor Tomato  (Solanum lycopersicum) This is another tomato from the prairies, gifted to us from Barry Robert, a gardener of the Yorkton, SK region who says it had been grown and saved on his mother's side of the family for many years. This side of Barry's family were Doukhobor's who settled north of Yorkton, SK in the early 1900's. We have been quite pleased with the seed response here in Nova Scotia. The tomato is a smaller dwarf variety that grows very well when potted. Fruits are no larger than 2-2.5 " on semi-determinate vines reaching 20-24". A heavy and early producer of crack-free fruit. An incredible heirloom with a taste of Doukhobor heritage. 
Indeterminate Growth
58 days to maturity

25 seeds per packet $3.95
Planting Instructions: Start seeds indoors 6-8 weeks before last frost. Sow 1/4 inch deep and keep soil warm. Transplant into 1 inch cells or 2 inch pots at 1-2 leaf stage. Staking tomatoes (indeterminate) should be transplanted into 3-4 inch pots. Harden off plants for 4-5 days after risk of frost has passed, then transport outdoors.