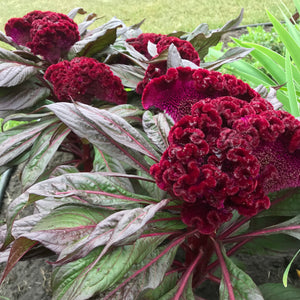 Cockscomb
Flower
Cockscomb (Celosia cristata) Gifted to Revival Seeds by Elsie & Emil Byrka in 2020. Cockscomb is a tropical plant, first introduced to Europe in the mid 1570s. This variety boasts a single, blood-red flower head resembling the comb of a rooster. Also known as Dracula or Novelty Celosia. This is an annual in most regions of Canada, or soft perennial in Zone 9 and up. Flower head and plant reaching 12-16" in height. The unusual inflorescence of this species makes an excellent eye-catching addition to your flower beds or containers.
75 seeds per packet $4.45
Growing Information: Sow seeds indoors 6-8 weeks before last spring frost. Lightly cover and keep soil moist until emergence. Soil temperatures should be at least 20 degrees for improved germination in 7-10 days. Reduce temperature to 12-15 degrees once seedling emerge. Space plants 20-24" apart in full sun. Seeds can also be directly sown in regions with longer growing seasons. (Zone 8 and up).