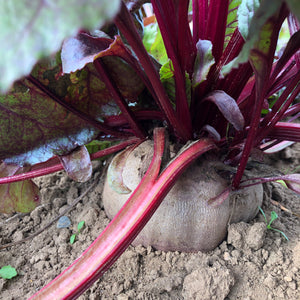 Detroit Dark Red Beet
Amaranthaceae
Detroit Dark Red Beet (Beta vulgaris) Formerly known as the Dark Turnip Root, Detroit Dark Red is the go-to for red heirloom beets; 'a perfect all-purpose variety' as noted in a early 1900's copy of a D.M. Ferry & Co. vintage seed Catalogue. A mid-season producer of round, dark red roots. A very tender and fine-grained texture. Ideal to consume fresh, canned, pickled and frozen. We love these in our salads too! A very easy beet to grow and harvest.
50 - 60 Days to Maturity  
100 seeds per packet $4.45
Planting instructions: Sow seeds 1/2 inch deep and 1 inch apart, thinning to 2-3 inches apart after germination. Leave 12-18 inches between rows. Begin seeding when soil temperature is 7-10 degrees Celsius.