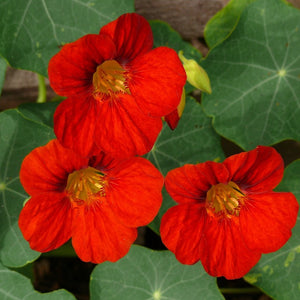 Empress of India Nasturtium
Flower
Empress of India Nasturtium (Tropaeolum majus) This old heirloom, also known as 'Indian Cress' was introduced in the mid 1880's. The Latin genus 'Tropaeolum' refers to a battle shield resembling the shape of the leaves with a spear penetrating the flowers, leaving a blood stained looking helmet. Leaves and stems are dark purple and edible along with the rest of the plant. Crimson-scarlet flowers pose above these stout and compact plants. The seeds of this annual flower can be pickled for a caper substitute or ground into a mustard like substance. The spicy flowers also make a fabulous addition to any salad.
25 seeds per packet $4.45
Planting Instructions: Start indoors 6-8 weeks before last frost date. Broadcast seed on top of soil and lightly cover with dome or plastic film until emergence. Keep under full light and harden plants off 7-10 days before lining out.