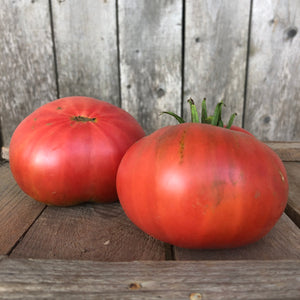 Flin Flon Tomato
Solanaceae
Flin Flon Tomato (Solanum lycopersicum) We first saw these tomatoes at a Saturday Farmers' market in St. Norbert Manitoba, selected seeds and grew this wonderful heirloom tomato the very next spring. Jessy Friesen of Carman MB obtained the original seeds from an elderly gardener in Flin Flon MB. This is a large growing indeterminate plant, yielding large, dark pink fruit. We have been growing it here in Nova Scotia since 2016 with great success.  
Indeterminate Growth
75 days to maturity 
25 seeds per packet $3.95
Planting Instructions: Start seeds indoors 6-8 weeks before last frost. Sow 1/4 inch deep and keep soil warm. Transplant into 1 inch cells or 2 inch pots at 1-2 leaf stage. Staking tomatoes (indeterminate) should be transplanted into 3-4 inch pots. Harden off plants for 4-5 days after risk of frost has passed, then transport outdoors.