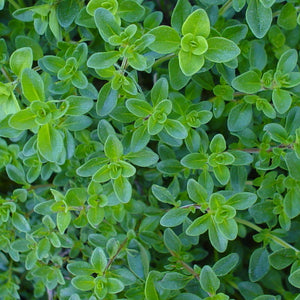 German Thyme
Herb
German Thyme (Thymus vulgaris) This is a woody little perennial evergreen that will propagate itself steadily over the years. A favourite of honey bees, these aromatic pretty pink flowers are a marked highlight of this plant. Thyme grows to heights of 12 inches and makes a great container plant that can tolerate dry conditions. Also fabulous in cuisine, teas, potpourri and a key ingredient of bouquet garni. Try drying thyme and tie the stalks with string for hanging, out of direct sunlight, remove the brittle leaves from the stalks and store them in a cool, dry, dark place. Thyme should be cut back by a third at the end of the growing season to stimulate healthy spring growth and flower set.
55-75 days to maturity
75 seeds per packet $3.95
Planting Instructions:
Sow seeds indoors, dusting seeds on the surface of a damp growing medium. Transplant outdoors after the threat of last frost has passed. Plant 10–12" apart.