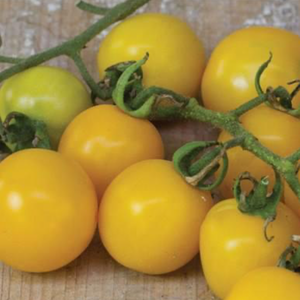 Hartman's Yellow Gooseberry Tomato
Solanaceae
Hartman's Yellow Gooseberry Tomato (Solanum lycopersicum) There are many accounts of this heirloom yellow cherry tomato dating pre 1830's. It is believed to be the same variety that was later made available in the late 1860's by the John Hartman & Daughters Seed Company of Indiana. I was gifted this seed from an elderly gentleman in Napanee, Ontario who had been growing these Hartman seeds on his small farm since 1978. This is a heavy producer, sending multiple long vines that bear clusters of very tasty, light yellow one inch 'gooseberry' tomatoes! Excellent for adding colour to salsas and in cooking or for fresh eating in salads as well.
Indeterminate Growth
75 Days to maturity
25 seeds per packet $4.45
Planting Instructions: Start seeds indoors 6-8 weeks before last frost. Sow 1/4 inch deep and keep soil warm. Transplant into 1 inch cells or 2 inch pots at 1-2 leaf stage. Staking tomatoes (indeterminate) should be transplanted into 3-4 inch pots. Harden off plants for 4-5 days after risk of frost has passed, then transport outdoors.