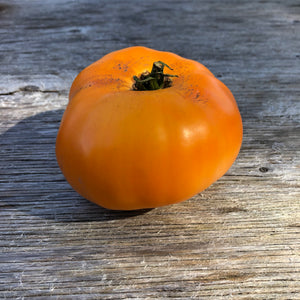 Kellogg's Breakfast Tomato
Solanaceae
Kellogg's Breakfast Tomato (Solanum lycopersicum) This family heirloom was bred and named by Michigan gardener Darrell Kellogg. It is one of the most popular orange beefsteak tomatoes amongst gardeners, well known for its rich flavour and well balanced acid/sugar level. This mighty & meaty oblate shaped fruit can weigh up to 2 pounds. A Lot of meat in this tomato, with few seeds!
Indeterminate Growth
85-90 days to maturity
25 seeds per packet $3.95
Planting Instructions: Start seeds indoors 6-8 weeks before last frost. Sow 1/4 inch deep and keep soil warm. Transplant into 1 inch cells or 2 inch pots at 1-2 leaf stage. Staking tomatoes (indeterminate) should be transplanted into 3-4 inch pots. Harden off plants for 4-5 days after risk of frost has passed, then transport outdoors.