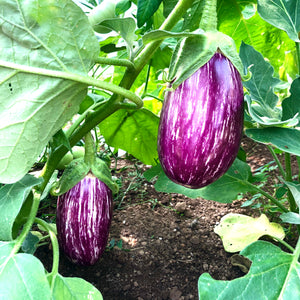 Listada de Gandia Eggplant
Solanaceae
Listada de Gandia Eggplant (Solanum melongena) A very popular Spanish heirloom with 7 inch white fruit highlighted by light purple stripes. The only eggplant my kids will eat, likely because of its sweet flavour and tender flesh.
90 days to maturity
30 seeds per packet $3.95
Planting Instructions: Start seeds indoors 6-8 weeks before last frost. Sow 1/4 inch deep and keep soil warm. Transplant into 1 inch cells or 2 inch pots at 1-2 leaf stage. Harden off plants for 4-5 days after risk of frost has passed. Transplant outdoors once day and night temperatures are consistently above 10 degrees Celsius.