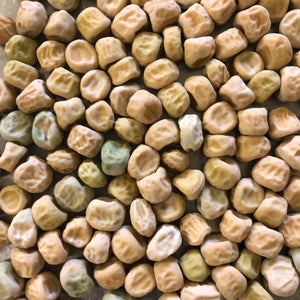 Little Marvel Pea
Fabaceae
Little Marvel Pea (Pisum sativum) This heirloom bush pea was first introduced as Sutton's 'Little Marvel' in 1900. It has become a dependable favourite both for home gardeners and market growers. Sturdy 12-18" semi-dwarf bushes are well suited to container growing for small urban gardens and balconies. Each of the 3-4" pods contain 6-7 mid-green, delicious tasting peas. Winner of the RHS Award of Garden Merit. Little Marvel has very good disease resistance. 
60 days to maturity
50 seeds per packet $4.45

Planting Instructions: Sow seeds 1/2 - 1 inch deep, 2 inches apart in row during late spring or when soil temperature is at least 10-15 degrees Celsius.