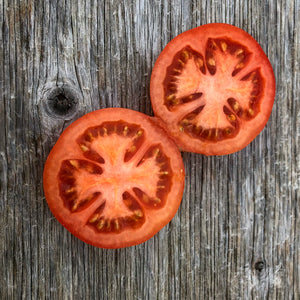 Matchless (Austin Strain) Tomato
Solanaceae
Matchless Tomato (Austin strain) (Solanum lycopersicum) Released in 1889 by W. Atlee Burpee. We planted The 'Austin strain' over 8 years ago, which was passed along to us from our friends at Heritage Harvest Seed in Manitoba. We have continued to grow this variety here in Nova Scotia and have never been disappointed. This is my favourite tomato to grow for many reasons! One, the plants are like iron stalks that can tolerate hurricane force winds, ie. Hurricane Dorian was a breeze! Two, they are disease resistant and plants can tolerate a light frost (-2.6 degree Celcius on June 6th 2019 to be exact) We lined these plants out in one of our lower sandy-loam fields, where growing conditions are more challenging. The Matchless fruit was still prolific well into late August. The 3-4 inch fruit has a wonderful texture and makes an excellent slicer (the best sandwich tomato in my opinion). A lovely dark orange-red tomato with juicy flesh that is mildly acidic and lightly sweet. Rugose leaves on determinate vines. Grow this one and you won't be disappointed.
Semi-determinate Growth
80-85 days to maturity
25 seeds per packet $4.45
Planting Instructions: Start seeds indoors 6-8 weeks before last frost. Sow 1/4 inch deep and keep soil warm. Transplant into 1 inch cells or 2 inch pots at 1-2 leaf stage. Staking tomatoes (indeterminate) should be transplanted into 3-4 inch pots. Harden off plants for 4-5 days after risk of frost has passed, then transport outdoors.