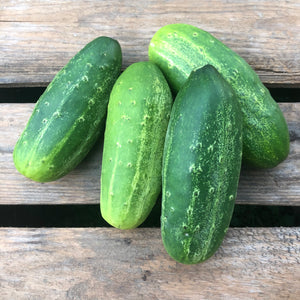 National Pickling Cucumber
Cucurbitaceae
National Pickling (Cucumis sativus) Introduced in 1929 between the pickle packing industry and the experimental research station of Michigan. A prolific producer of dark spine, 5-6 inches medium green fruit that are slightly tapered and blunt ended, making an ideal fit in most pickling jars! A perfect pickling cucumber with long storage capability.
55 days to maturity
25 seeds per packet $3.95
Planting Instructions: Seed indoors 1/2 inch deep. Line out transplants after risk of frost has passed, spacing 5-6 seed apart. Direct seed in raised hills sowing 5-6 seeds 1/2 inch deep. Soil temperature should be at least 21 degrees Celsius. Space mounds 5-6 feet apart, thinning to 3 plants per mount. Cucumbers can be trellised.