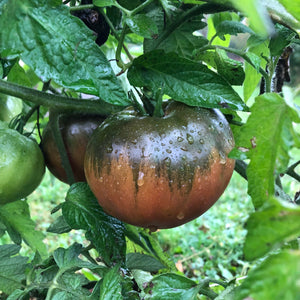 Purple Cherokee Tomato
Solanaceae
Purple Cherokee Tomato (Solanum lycopersicum) Purple Cherokee was one of the earliest purple heirloom varieties to find its way out of seed savers of the Tennessee area and into the hands of mainstream gardeners. The original seed source is that of the Native American Cherokee peoples. The shorter vines have relatively dense, regular leaf foliage that have a tendency to curl upwards. Expect large 12-16 oz fruits boasting full and complex sweetness, making a real nice slicer and salad tomato.
Indeterminate Growth
75 days to maturity
25 seeds per packet $3.95
Planting Instructions: Start seeds indoors 6-8 weeks before last frost. Sow 1/4 inch deep and keep soil warm. Transplant into 1 inch cells or 2 inch pots at 1-2 leaf stage. Staking tomatoes (indeterminate) should be transplanted into 3-4 inch pots. Harden off plants for 4-5 days after risk of frost has passed, then transport outdoors.