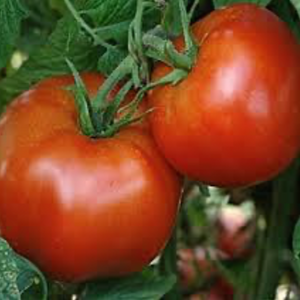 Rutger's Original Tomato
Solanaceae
Rutger's Original Tomato (Solanum lycopersicum) An outstanding original heirloom version predating the Rutger's University 1943 selection. This original variety mirrors the 1928 Campbell's Soup Co. tomato which was a cross between Marglobe (1917) and the JTD (New Jersey 1922). An outstanding slicer, cooking and canning tomato, Rutger's medium sized fruits are lovely oblate with strikingly red flesh and a wonderful texture. A very flavourful, juicy heirloom tomato born on vigorous determinate vines.
Determinate Growth
75-80 days to maturity
25 seeds per packet $3.95
Planting Instructions: Start seeds indoors 6-8 weeks before last frost. Sow 1/4 inch deep and keep soil warm. Transplant into 1 inch cells or 2 inch pots at 1-2 leaf stage. Should be transplanted into 3-4 inch pots. Harden off plants for 4-5 days after risk of frost has passed, then transport outdoors. Transplant outdoors once day and night temperatures are consistently above 10 degrees Celsius.