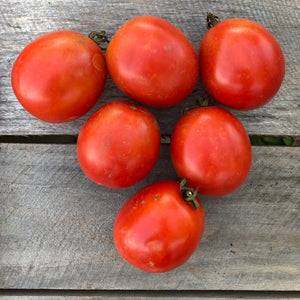 Siberian Tomato
Solanaceae
Siberian Tomato (Solanum lycopersicum) This Russian heirloom is a very early producer of 3-5 inch bright red oval shaped tomatoes born on sturdy, compact plants. They are sweet, juicy and flavourful making them perfect for salads, slicing, and saucing. Plants are capable of setting fruit in northern latitudes above 55 Degrees. As the name of origin indicates, Siberian is one of the hardiest and earliest maturing varieties on the market bearing fruit only 7 weeks after transplant. Plants do require support via staking or use of traditional cages. An excellent determinate variety for home gardens with a short growing season.
Indeterminate Growth
48 days to maturity
25 seeds per packet $3.95
Planting Instructions: Start seeds indoors 6-8 weeks before last frost. Sow 1/4 inch deep and keep soil warm. Transplant into 1 inch cells or 2 inch pots at 1-2 leaf stage. Staking tomatoes (indeterminate) should be transplanted into 3-4 inch pots. Harden off plants for 4-5 days after risk of frost has passed, then transport outdoors.