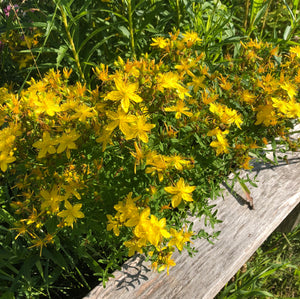 St. John's Wort
Herb
St. John's Wort (Hypericum perforatum) This perennial plant is a highly sought-after medicinal herb since ancient times, mainly used as an herbal treatment for depression and mood disorders. Plants resembles a small woody shrub with attractive yellow flowers, growing 12-18 inches tall and flowering early in the summer. It will naturalize but is patchy and not invasive. We have several areas along our field margins where the plants have colonized in small clusters. 
250 seeds per packet $3.95
Planting Instructions: Seeds require a cold stratification period of at least 3-4 weeks. Sow seeds indoors 8-10 weeks before last frost. Sow just beneath surface of soil and allow light for germination. Transplant outdoors after risk of spring frost has passed. Can also direct seed in the autumn 6-8 weeks before first frost. Appears as a prostrate ground cover the first year. Harvest fresh flower after morning due has dried, when crushed, flowers yield a reddish oil.