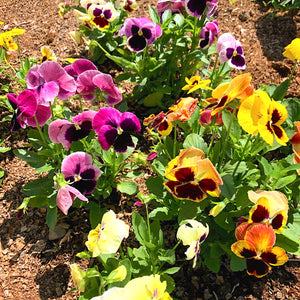 Swiss Giants Mix Pansy
Flower
Swiss Giants Mix Pansy (Viola x wittrockiana) A large-flowered heirloom pansy that comes in a mix of blue, orange, purple, red, white and yellow flowers with a contrasting dark marking. Pansies are attractive perennials but are cultivated as though they were annuals. These cold hardy plants reach 8-10 inches in height and are well suited for hanging baskets and potted arrangements. The flowers are also edible.
50 seeds per packet $3.95
Planting Instructions: Start indoors 6-8 weeks before last frost date. Broadcast seed on top of soil and lightly cover with dome or plastic film until emergence. Keep under full light and harden plants off 7-10 days before lining out.