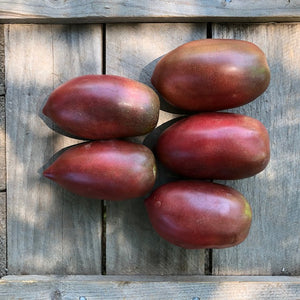 Ukrainian Purple Tomato
Solanaceae
Ukrainian Purple Tomato (Solanum lycopersicum) This is a wonderful heirloom tomato with Ukrainian origins to the southern rural region of Kiev. Our seed source came to us in 1999, courtesy of the Zelinski family of Thunder Bay, Ontario. Expect high yields of 5 to 7 ounces purplish-red plum tomatoes that are quite meaty and flavourful. Gorgeous plum-shaped fruits are 3-4 inches long and generally crack-free.
75-80 days to maturity
25 seeds per packet $3.95
Indeterminate Growth
Planting Instructions: Start seeds indoors 6-8 weeks before last frost. Sow 1/4 inch deep and keep soil warm. Transplant into 1 inch cells or 2 inch pots at 1-2 leaf stage. Staking tomatoes (indeterminate) should be transplanted into 3-4 inch pots. Harden off plants for 4-5 days after risk of frost has passed, then transport outdoors.