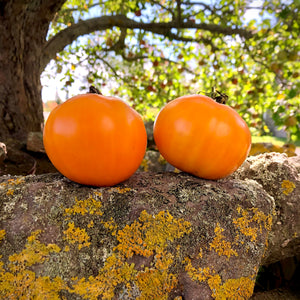 Woodle Orange Tomato
Solanaceae
 Woodle Orange Tomato (Solanum lycopersicum) This tangerine coloured beauty hails from Iowa. We have grown it since 2007 when we first obtained the seed from a retired school teacher in Vernon BC. This 4-6 inch heirloom beefsteak is a very symmetrical, blemish free and showy fruit with a real nice juicy flavour that sells out at markets regularly. As with most orange and yellow tomatoes, the acidy is lower. A real nice addition to any salad.
Indeterminate Growth
80 days to maturity
25 seeds per packet $3.95
Planting Instructions: Start seeds indoors 6-8 weeks before last frost. Sow 1/4 inch deep and keep soil warm. Transplant into 1 inch cells or 2 inch pots at 1-2 leaf stage. Staking tomatoes (indeterminate) should be transplanted into 3-4 inch pots. Harden off plants for 4-5 days after risk of frost has passed, then transport outdoors.